Services
Ear Training
We provide ear training at the end of each lesson.
Group or Individual Lessons
We teach students of all ages, with different lessons types for different budgets and goals.
Top-of-the-line Equipment
We use only the best equipment in our studio: Quality Yamaha pianos and a beautiful Boston Grand.
Annual Recital
Our annual performance recital helps to make your learning goals real. And it's great experience!
Proven Results
Individual progress tracking and personalized practice/homework assignments for each student.
Individualized Instruction
Piano instruction is custom-tailored to the individual ability of each student.
Music Fundamentals
Learn the fundamentals of piano, like reading sheet music, counting on meter, etc. Teaching is never "learn by ear."
TOUR THE STUDIO
Our comfortable studios feature top-of-the-line
instruments. Click an image to learn more.
FULL GALLERY »
Semi-private lessons, 2 students

In semi-private classes, two students share a lesson and enjoy individualized instruction.

Top-of-the-line pianos

Enjoy some of the best in-studio pianos on Oahu, including our beautiful Boston Grand.

Nobu works with students one-on-one

Nobu takes time to assess the skill level of each student to custom-tailor lesson plans.

Nobu's students featured on OC16

Nobu's students were featured on Tiny TV, a statewide television show on OC16.

Focused private lessons

Our creative students love working with Mr. Jensen. He specializes in transcribing and teaching popular music.

Affordable group classes

Students in our affordable group classes work on state-of-the-art Yamaha Calvinova and Arius weighted keyboards.

Group classes, 3-4 students

In group classes, students who are around the same age learn as a group. Students benefit from group dynamics, and parents enjoy an affordable rate.
FULL GALLERY »
NEWS & ANNOUNCEMENTS
Schedule changes, helpful piano tips,
reminders, and more. Find them all here.
ALL POSTS »
Nov

02

0

Learning music as a family is fun!

Just as a family's shared life experiences grow and become more full and enriching over time, so should their journey into music.

Sep

08

0

How piano boosts SAT scores

Check out this College Board study, which shows that the ability to read music greatly can greatly improve test-taking skills.
ALL POSTS »
LESSONS & TUITION
Group Lessons
3-4 students of matching age. Our most popular type of lesson.
(4) 30-min. lessons
Group instruction
Classical music at skill level
Learn to read music
Personalized homework
Tracking of progress
Annual piano recital
Pearl City piano studio
$62

/student
Semi-Private Lessons
2 students matched by preference.
(4) 30-min. lessons
Semi-individual instruction
Classical or popular music
Learn to read music
Personalized homework
Tracking of progress
Annual piano recital
Pearl City piano studio
$75

/student
Private Lessons
Any age and ability level
(4) 30-min. lessons
Individualized instruction
Classical or popular music
Learn to read music
Personalized homework
Tracking of progress
Annual piano recital
Honolulu or Pearl City studio
Custom scoring of fav. songs
$100

/student
Adult Twice-Monthly
Day classes to fit work schedules
(2) 30-min. lessons
Individualized instruction
Classical or popular music
Learn to read music
Personalized homework
Tracking of progress
Annual piano recital
Pearl City piano studio
Custom scoring of fav. songs
$60

monthly
OUR TEACHERS
Teaching music is not just our job; it's our passion!
Meet our all-star team of teachers.
Nobu Sakurai
Owner/Teacher
Education: BA in Piano Performance, University of San Diego
Master of Education, Chaminade University of HonoluluBorn and raised in Japan, Nobu started playing piano at the age of 9. After earning a degree in English language, Nobu moved to California, where she earned her BA in piano performance at the University of San Diego while playing accompaniment in church, studying with piano masters, and teaching private lessons.In 2002, Nobu moved to Hawaii. Nobu earned her Masters of Education at Chaminade University; meanwhile, she was a full-time language teacher at Saint Louis School and a part-time piano teacher at Piano Outlet. When Piano Outlet closed in 2011, Nobu opened her very own studio in Pearl City, and Nobu Sakurai Piano Studios has since grown to be the island's premier school for piano lessons and mastery.
"
____
"I am a firm believer that the benefits of music education extend beyond pure academics to give our children richer, more fulfilling and complete lives—a priceless gift."
Jensen Blue
Teacher
Education: BA in Piano Performance, Brigham Young University, Hawaii Jensen was born and raised in Pearl City, Hawaii. He started piano lessons at the age of 8, and he continued through college, earning his BA in piano performance from BYU-Hawaii in 2010. Jensen also serves as an accompanist for Na Keiki O Manana Choir at Manana Elementary School—the same choir in which he got his musical start. Jensen joined Nobu Sakurai Piano Studios as a teacher in February 2013. He specializes in custom-scoring popular music.
Masa Sakurai, PhD
Business Manager
Education: PhD in management science, University of Wisconsin & UH Manoa Masa helps manage the business side of Nobu Sakurai Piano Studios. With a PhD in Management Science, Masa makes sure that our paperwork is in order so that payment and pricing is simple, smooth, and easy for students and parents. He is a third-generation Japanese-American. Like his wife, Nobu, Masa loves traveling, especially to Europe and Japan. He also enjoys opera, symphonies, cooking, wine, modern art, and architectural design.
TESTIMONIALS
My daughter started piano at age 5 with Nobu at the former piano store at Pearl Highlands over 3 years ago.  We were devastated to hear the store was closing until Nobu told me she was opening her own studio.  My daughter loves taking lessons with Nobu - a huge plus to keep her motivated to both practice and to want to go to her lessons each week.  Nobu is great with kids and is also excited to see her students when they arrive.  I would be hard pressed to find another teacher who my daughter would love so much... I recommend her wholeheartedly.
Alina's Dad
Nuuanu Elementary School
Taking private lessons for 4 years
We are so happy to be with Nobu's studio!  Harley really enjoyed herself and Mr. Jensen was amazing. She was very nervous but she walked out feeling great and much nice things to say about him.
Harley's Mom
Waianae
Taking Private Lessons from Mr. Jensen for almost 6 months
Mrs. Nobu has been a blessing to us! My son has been taking 1:1 piano lessons from her since late 2011. Her talent and passion for music not only inspires my son to learn, it motivates him to be a better student! She pushes him to his potential, and is also always generous and timely with her compliments and acknowledgement of his accomplishments, big or small! As a parent, I love that about a teacher! And her style of teaching is reflected on the smile on my son's face after every lesson...


Dr. Alaimalo
Mother of Saunders
From Pearl City
Ms. Nobu is a very good piano teacher. When my daughter's previous teacher had moved away, I was having a hard time to find a new teacher for my daughter. However, Ms. Nobu gently understood the way my daughter used to learn piano, and then she took my daughter's unfinished lesson books and continued to the end. My daughter could make transition very easily to Ms. Nobu. My daughter loves to see Ms. Nobu for lessons every Thursday and enjoys piano more than before. I am very thankful to Ms. Nobu.

Katelyn's Mom
From Hawaii Kai
"I enjoy playing the piano. Every morning, I get up and I want to go straight to the piano to play. It is fun! I have been taking piano lessons with Miss Nobu for almost five years. My mom wanted to change me to lessons closer to our house, but I wanted to stay with Miss Nobu. She is very enthusiastic and helps me get better."
Reyan
Pearl Ridge Elementary School
Taking group lessons for 5 years
I really like my class because Ms. Nobu is very friendly and she really knows the way to make you learn the piece you are working on. I also play violin and have joined the school orchestra. Because I play piano, it makes it so much easier to read notes and play violin.
My brother is also in the same class and we have been taking piano lessons together for 6 years now. We both enjoy Ms. Nobu's class so much!
Kevin
Moanalua High School
Taking group lessons for 6 years with his brother
With my husband's support, I was able to take private piano lessons for 3 years with Nobu at Piano Outlet. However, I stopped due to busy schedule at work and at home. Learning for me is never ending; age does not matter. Luckily, I was able to find Nobu's studio again and once more, I am learning to play piano and enjoying every moment I touch the keyboard producing lovely sound of music. I give my thanks to my family for their support and to Nobu and Jensen – they are GREAT teachers with lots of love and patience to their students.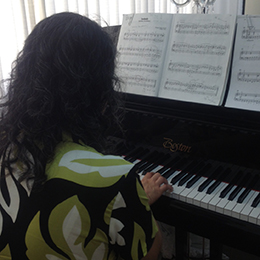 Eva
Ewa Beach
Taking semi-private lessons with daughter Ruth for 2 years
Our son, Tyler, enjoys attending Mrs. Nobu Sakurai's piano class because she is noticeably very compassionate in her ways of teaching piano. Mrs. Nobu is not only intelligent but also very organized and courteous. That is why we recommend Mrs. Nobu Sakurai for your kids or for you as your piano instructor.
Mr. and Mrs. Udarbe
Parents of Tyler
Iolani School, '19
"I've been taking piano lessons from Nobu for about five years now and I've learned a lot since then. I like how she is able focus on a particular music genre based on my own interest. In my case, I enjoy listening and playing classical music. She is also able to work around my busy work and school schedule which makes it very convenient for me."
Toby
From Pearl City
Taking Private lessons for 5 years
Ms. Nobu is very gentle and kind to me. When I have a hard time understanding, she explains it to me very easily and is understandable. She tells me how I can improve my technique. I love to go to her lessons every week!
Katelyn
St. Andrews Priory
Taking private lessons at Honolulu Studio for over 1 year
I've always wanted to learn piano but was scared to try. With Jensen as my teacher I feel like I can learn anything. In only a few months I'm playing one of my favorite songs by Journey. I should have started a long time ago. Jensen is the man, and I would recommend him to anyone.
Russel
Pearl City
Taking Private Lessons from Mr. Jensen for six months
It is always fun to be able to play something I've heard in a movie or from a classical CD. Mrs. Nobu is a great teacher; she is always giving advice and pointing out details in which I could play a piece better. Along with teaching piano skills and techniques, she shows how fun and enjoyable playing the piano can be.
Andy
Island Pacific Academy
Taking private lessons for almost 3 years
I like Ms. Nobu - she makes learning the piano FUN and easy! I like that she is patient with me, always nice, tells me that 'I'm doing a good job', and gives me treats at the end of every lesson...:)
Saunders
Our Lady of Good Counsel School
Taking private lessons for over 2 years
The reason I like Ms. Nobu is that she's really patient with me. If I make a mistake, or if I need a little more time to learn things, she's OK with it, and she'll help me along the way!
Kaycee
Mililani High School
Taking group lessons for 2 years
When I play piano, I feel like I'm in a better world, and I feel like I can do anything. Ms. Nobu has taught me a lot, and she makes piano class something fun that I can look forward to.
Elysha
Kaleiopuu Elementary School
Taking Semi-private lessons for 3 years
I'm so happy that I decided to learn how to play the piano, even as a full-time working adult. I have found piano playing to be a therapeutic outlet from daily stressors that has helped to improve my memory and creativity. I'm glad to have found Nobu as a piano teacher. Nobu has a passion for music and teaching and an individualized approach to each student that continues to make learning how to play the piano enjoyable.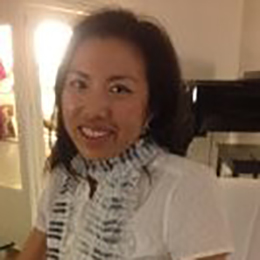 Dr. Alice Uy
Tripler Medical Center
Taking Private Lessons at Honolulu Studio for 2 years
My two children started taking piano lessons at another studio when they were 4 and 5 years old. Their previous instructor was very impatient and at times rude. After about 8 months, I decided to give another piano studio a try. That was when I found Nobu Sakurai Piano Studios. Her patience and positive attitude made my children feel very welcoming and at ease. My children have been taking lessons from Mrs. Nobu for over a year now and I have seen tremendous progress in their music.
Shirley from Honolulu
Mother of Sammi (6) & Jordan (5)
Taking Private Lessons at Honolulu Studio for almost 2 years
Contact Us
Please fill out this form to leave us a message, or contact us directly using the contact info below. Nobu Sakurai Piano Studio is centrally-located in Pearl City. The air-conditioned, safe, secure practice rooms are housed in the Kaahumanu Building on Kaahumanu St., near Gyotaku and Midas. Free parking is located behind the building,
up a ramp between Midas and our studio.
98-1238 Kaahumanu Ave., Ste. 201 Pearl City, HI